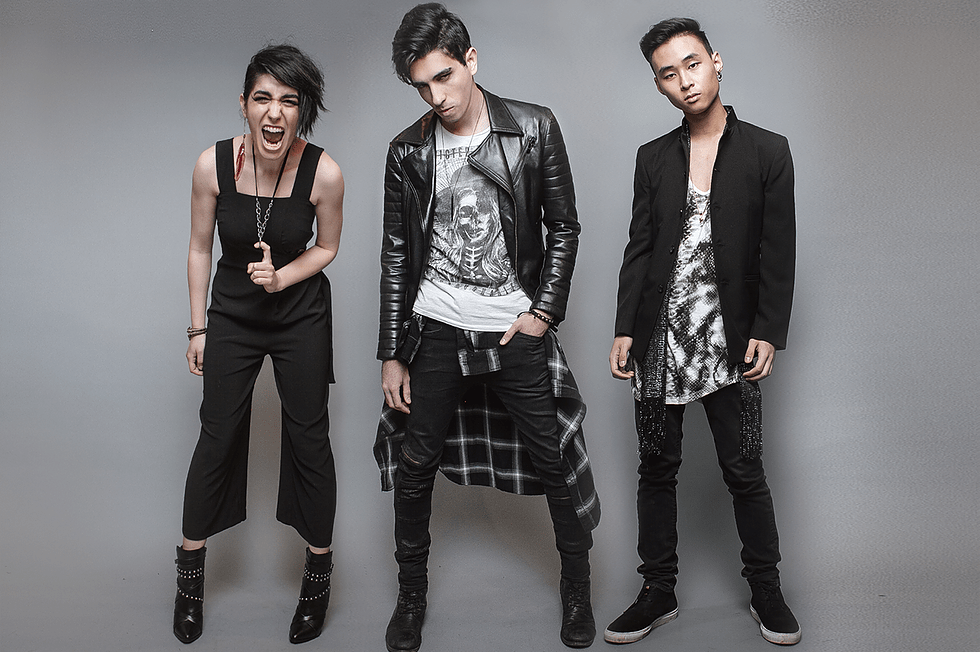 Empty Cage
Due Out 10/6/17
"Moonfall is known for their musical diversity and perchance to experiment
​with different styles."
– Earmilk
"Time is no indication of talent, a theory that Moonfall proves well. The band may be young, but they
​have potential as far as the eye can see, and they're bringing it to an edgy pop rock sound." – idobi
(New York, NY) Pop/rock trio Moonfall has released their second single "Colorless" off their forthcoming EP Empty Cage. The 6-track album is set for release on October 6th but is available for pre-order now, here: http://smarturl.it/EmptyCageEP. When asked about the song, vocalist/guitarist Matthew Howl said: "'Colorless' is about things becoming so muddled that you have a hard time feeling them. It's about wanting to live a different life than the one you have… waiting for the moment that you break down but it doesn't come because people have a way of persevering through the toughest obstacles and keep going. The song uses a lot of electronic instruments on the base of a simple acoustic guitar line. We all really like the contrast it creates." The track, which strays from the band's alt/rock roots, is streaming exclusively on Earmilk, here: http://bit.ly/2wRj7Wh.

Earlier this month, the band debuted their music video for "Lost" on idobi. The gang headed out to Philadelphia, PA to film with director Chris Newhard (Sia, Jessie J, Train) at Baleroy Mansion. Notorious as one of the most haunted houses in town, the original family/owners of the property experienced paranormal activity, hallucinations, and inexplicable deaths. Moonfall channeled this concept in the video by depicting all three members circling throughout the premises while battling the unknown.

In addition, Moonfall will be joining Echo Black on their The Break Of Dawn Tour. The first show on the first leg of the tour will kick off in Niagara Falls, NY at The Evening Star on October 6th and wrap up in New York, NY at American Beauty on November 2nd. Fans can purchase tickets now, here: http://www.moonfallofficial.com/tour.

October 6th -Niagara Falls, NY – The Evening Star
October 7th – WIlliamsport, PA – The Ground Floor
October 8th – Stanhope, NJ – Stanhope House
October 13th – Cleveland, OH – The Winchester
October 14th – Kittanning, PA – Radioactive
October 20th – Philadelphia, PA – The Barbary
October 22nd – Wilmington, DE – Bar XIII
October 26th – Baltimore, MD – The Depot
November 2nd – New York, NY – American Beauty

Moonfall, a three-piece alternative pop/rock band hailing from New York City, is on a journey to impact the world. Dynamic and texturally creative, they aspire to turn stages everywhere into their proving grounds through their high energy delivery of memorable songs. Known for their versatile musicianship and their experimentation with genres since their inception, they quickly honed in on what would become their unique approach to composing. By amalgamating different musical styles with meaningful lyrics and unforgettable melodies, Moonfall has created a profound and enduring connection with their audience and listeners. Formed in 2015, Moonfall released their debut EP Refraction, but truly begun their breakthrough with their single "Devon", which generated a frenzy of rave reviews from dedicated fans, press outlets, and new listeners alike, all ready to embrace what Moonfall has to offer next. With performances characterized by their relentless intensity on stage, it is as present in their determination to let their voice be heard and felt on an ever grander scale. Their brand of infectious modern rock has quickly seeped into the minds of many, and the trio's lively stage presence has left them wanting more. The band's sophomore EP Empty Cage will be released independently on October 6th, 2017.

Moonfall is Matthew Howl (vocals/guitar), Mei Moor (bass), and Andrew Chow (drums).